Cheese sticks are a delicious snack or appetizer the whole family will love. Golden, crunchy, and filled with melty cheese, these spring rolls are seriously addictive!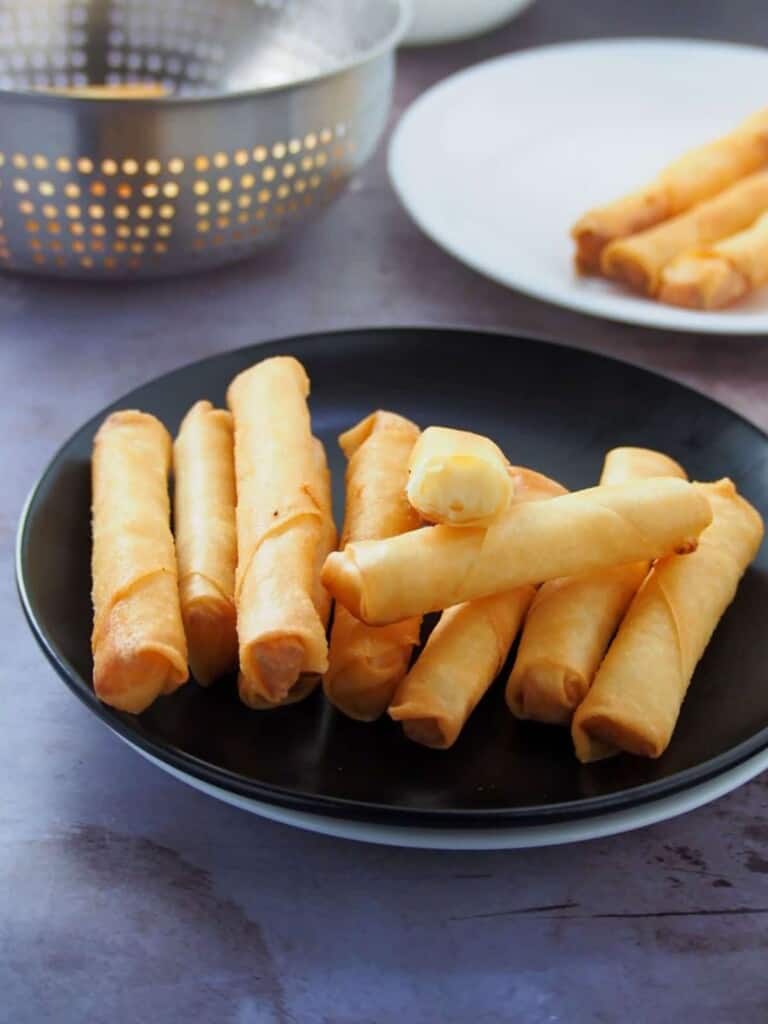 I made my sweet and sour sauce today to share the recipe on the blog, and the whole while I was whisking the sweet and sour liquid to desired thickness, I was dreaming of things salty and crunchy to dip. Like, um, lumpiang shanghai.
Unfortunately, the pack of ground pork I had in the freezer was rock solid, and I was too eager for a quick fix to wait. I rummaged my fridge for anything remotely close to meat I can wrap in spring rolls, and there it was.
How to assemble
Cut the block of cheese into long, thin strips about 1/2 inch thick and 3-inch lengths.
Gently peel each spring roll wrapper to separate. Cover with a damp paper or kitchen towel while assembling to keep from drying out.
Lay the wrapper like a diamond on a flat working surface. Place cheese lengthwise in the middle of the wrapper and fold the bottom end of the wrapping over the cheese.
Fold side ends inward and starting at the bottom, roll tightly into a log. Dab the top corner of the wrapper with water and press to seal.
Cooking Tips
The recipe calls for Eden cheese, a Filipino brand of processed cheese food that has a mild yet creamy taste and melts well. Other types of cheeses I like to use are Velveeta, cheddar, gouda, cream cheese, or mozzarella sticks.
For a kick of heat, place one or two strips of finger chilies (siling haha) on top of the cheese before wrapping.
To minimize leaking of the melted cheese, roll the wrappers as tight as possible. You can also freeze the cut cheese for about 10 to 15 minutes before assembly and frying.
Use oil with high smoke points such as peanut, canola, or safflower. Fry at the optimal 350 F to 375 F temperature. Too hot, and the wrappers will burn before the cheese fully melts. Too low and the spring rolls will absorb a lot more grease.
Do not overcrowd the pan and fry in batches as needed.
Baked Method
Deep-frying yields the best results, but if you'd like to cut some calories, you can bake the spring rolls instead.
Preheat the oven to 400 F. Brush a baking sheet with vegetable oil.
Arrange the spring rolls in a single layer and seam side down on the prepared baking dish. Lightly brush with vegetable oil or spray with cooking spray.
Bake for about 15 to 18 minutes, turning halfway through, or until evenly browned on both sides and cheese is melted.
Remove from heat and serve with favorite dipping sauces.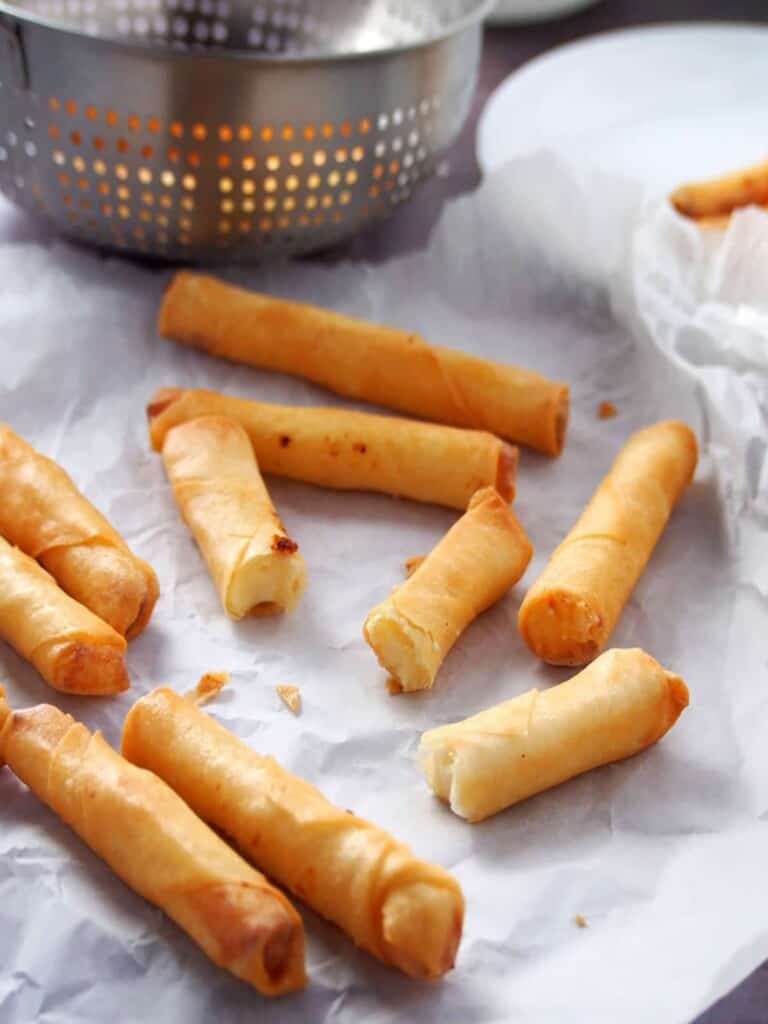 How to store
Arrange spring rolls in a single layer on a parchment-lined baking sheet, cover with plastic film, and freeze for about 1 to 2 hours or until firm. This step will keep them from sticking when frozen.
When firm, transfer in resealable bags or airtight containers. Properly stored, they'll keep in the refrigerator for up to 3 days or in the freezer for up to 2 months.
No need to defrost and can be fried frozen, but need to cook longer.
Enjoy these cheese sticks as a midday snack or appetizer with dipping sauces such as marinara, Ranch dressing, BBQ, sweet and sour, or plum sauce. They're sure to be crowd favorites!